The Angry Independent:
I Imagine that the U.S. Threat Level Might Be Raised At Some Point, Since These Planes Would Have Been Headed For the U.S.
UPDATE: U.S.<-->British Flights Put At Threat Level Red. Other Flights Put At Threat Level Orange.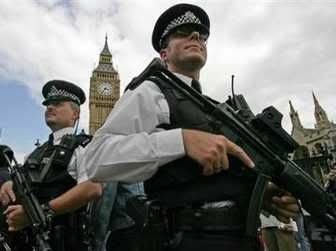 'Plot to blow up planes' foiled

A terrorist plot to blow up planes in mid-flight from the UK to the US has been disrupted, Scotland Yard has said.

It is thought the plan was to detonate up to three explosive devices smuggled on aircraft in hand luggage.

Police have arrested about 18 people in the London area after an anti-terrorist operation lasting several months.

Security at all airports in the UK has been tightened and delays are reported. MI5 has raised the UK threat level to critical - the highest possible. According to MI5's website, critical threat level means "an attack is expected imminently and indicates an extremely high level of threat to the UK".

More Here (Updated Reporting From BBC)

_____________________

Additional Source
The Moderate Voice Has More Coverage of This Story.