Wesley Snipes Has Been Hit With an 8 Count Federal Indictment for Tax Fraud

A Warrant Has Been Issued For His Arrest

Actor Could Face 16 Years in Prison
The Angry Independent:
I don't understand why these wealthy people have to be involved with this kind of thing. They are already wealthy, but it seems they want more. Millions of dollars just aren't enough for some. They want to live beyond their means when they already have plenty.
Give me a few million and i'm a happy man (financially speaking).....a happy tax paying man too.
Although I don't like how my tax money is spent.
**********************************

Wesley Snipes indicted for tax fraud

Actor charged with failing to pay nearly $12M, failing to file for 6 yearsWASHINGTON -
Wesley Snipes was indicted Tuesday on tax fraud charges that accuse the actor of trying to cheat the federal government out of nearly $12 million in false refund claims and not filing any returns for six years.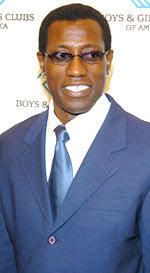 Prosecutors said Snipes fraudulently claimed refunds totaling nearly $12 million in 1996 and 1997 on income taxes already paid. The star of the "Blade" trilogy and other hit films such as "Jungle Fever" and "White Men Can't Jump" was also charged with failure to file returns from 1999 through 2004.
According to the indictment, Snipes had his taxes prepared by accountants with a history of filing false returns to reap payments for their clients. As part of the deal, the indictment alleges, the firm American Rights Litigators would receive 20 percent of refunds from clients.
"It's a conspiracy against the IRS, basically to harass the IRS, from doing its lawful job in term of collection of taxes," U.S. Attorney Paul I. Perez said at a news conference.
If convicted of all the charges, Snipes could face 16 years in prison — five years each on two conspiracy counts and one year each on six counts of failure to file income tax returns.
Read Full Report Here