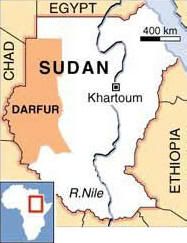 Listen to audio report on the latest from Darfur taken from TheWorld.org public radio program, from November 20th.
Anchor Lisa Mullins speaks with Ashis Brahma, a physician with the International Rescue Committee, about attacks on himself and those he works with in Chad, along the border with Sudan's Darfur region. There has been an upsurge in attacks against civilians in Darfur this week. The Sudanese government says it's reached an agreement with the United Nations about bringing peacekeepers to Darfur.
However, the violence continues.
Listen to report here.
Visit source site
here.
____________________________
ANOTHER UPDATE
The
On Point
Public Radio program has done a more extensive report & discussion of the worsening situation in Darfur.
LISTEN HERE
(click on the preferred audio option at top of page.)
Discussion from Wednesday, November 22nd.
::::::::::::::::::::::::::::::::::::::::::::::::::::::::::::::::::

Previous Blog Entries On This Subject
What is a
Black Life Worth?
Amy Goodman
Reports on Darfur
Commentary on Darfur
from Mia Farrow
Major Symposium
on Darfur in New York City
Previous report
from Amy Goodman
Still no response
to crisis
Holocaust Continues